0
0
Read Time:
6 Minute, 27 Second
You should be familiar with the crock pot.
Don't Starve Together is the online multiplayer adaption of Don't Starve, a wilderness survival game with RPG elements and open-world exploration. In it, you select a character from the game world's heroes, each with their own set of skills and inherent qualities, and strive to survive the long winters and scorching summers without starving, falling ill, or losing your mind.
But you can't live off of meatballs forever! The longer you cook it, the more wonders of this wonderful world unveil themselves to you, including more and more items that you may cook in your homemade crock pot into delectable life and sanity-saving recipes. Here are some of the most important recipes to know.
Pierogi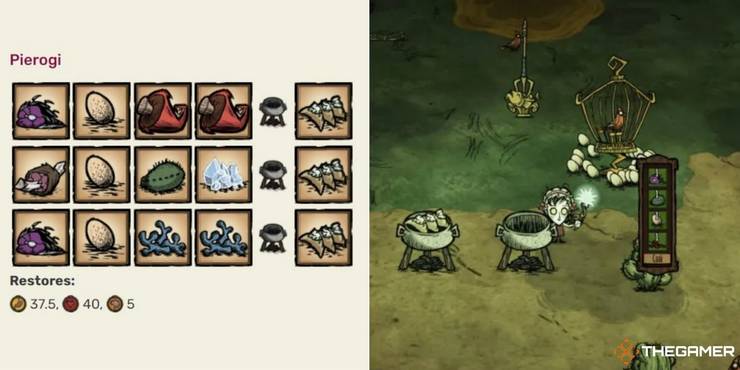 Some of the simplest recipes are those that call for a filler, which is an indistinguishable food item of a specific sort that completes the recipe. Pierogi require one egg, one vegetable, any meat, and any filler. This not only makes it a very accessible recipe for new players, but it is also one of the well-known go-to healing recipes, particularly after monster bouts.
This is due to the fact that Pierogies have an incredible 40 Health and a convenient shelf life of 20 days. Because of the substantially longer spoil-time, it is ideal for long excursions, as you may create a huge quantity and stockpile it as needed.
Surf 'N' Turf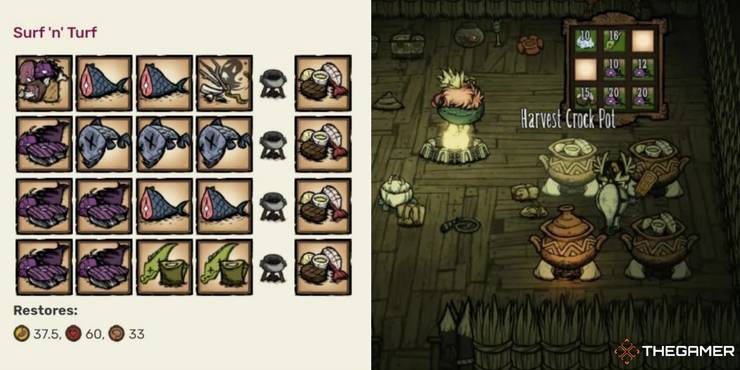 Surf 'N' Turf will take care of all you need if your home base camp is near a pond or a running river. This recipe, which provides 60 Health and 33 Sanity, will keep you going through long, dark nights, especially those filled with terrors.
You'll need two fish and two meat morsels, three little fish and one part meat, or two eels and two meat morsels to create it. If you're running low on resources, you can also include an inedible to fill the remaining slot, and if you're playing Wickerbottom, you'll get 52.5 Hunger instead of the standard 37.5. If you happen to travel by the Coral Reefs, you can even give it to Yaarctopus in exchange for a Boat Lantern.
Ice Cream
If you find yourself with a low level of sanity — which happens all the time and is nothing to be ashamed of — ice cream is your go-to snack for restoring your sanity. This meal, which counts as a vegetable in the world of Don't Starve Together, renders a mind-blowing 60 Sanity, flipping the world the right side up at the first lick and lowering temperature by up to 40 degrees on hot summer days.
You'll need one dairy product, one piece of ice, and two sweeteners to prepare it. If you don't like ice cream, there are a variety of alternative sweet treats that are good for your health, such as banana shakes, jelly salads, vegetable stingers, soothing teas, and taffies.
Froggle Bunwich
If you're in a need and don't have enough ingredients to make a full meal, a Froggle Bunwich is a tasty snack that will satisfy your appetite. All you have to do is go to the nearby swamp, collect a few of frogs (which are plentiful), and fill in the gaps with veggies and twigs.
Two frogs offer you 20 Health and 37.5 Hunger, enough for two Froggle Bunwiches to get you through the night until you can catch something more nourishing. Froggle Bunwiches deteriorate in 15 days, so bring them with you the next time you go hunting or foraging. You never know how long you'll be out there.
Beefy Greens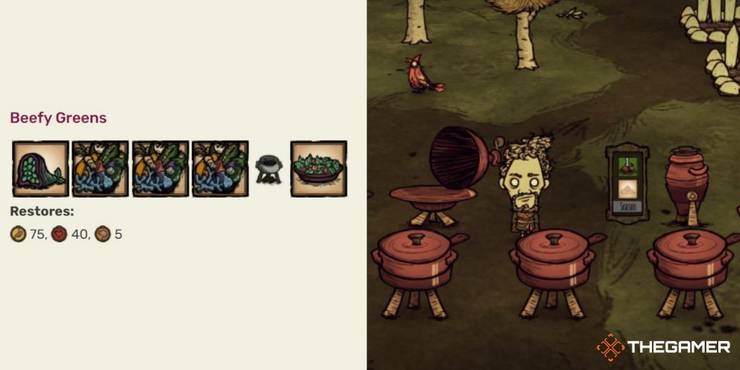 Leafy meat might be a wonderful alternative to animal meals for individuals with a green thumb. Beefy Greens is one of the best meals you can learn to make, and it's much easier to find if you have a few Lureplants strategically placed on floating lily pads – where they can't kill you or take over your home base.
Beefy Meat may be prepared with one chunk of leafy meat and three veggies, yielding a whopping 75 Hunger and 40 Health. If you discover it lying about, don't pick it up otherwise you'll enrage the dreaded Bunnyman. They can also detect any meats or eggs in your backpack, so be sure to first befriend them with a carrot and a Sanity aura of 25/min for 20 minutes.
Honey Ham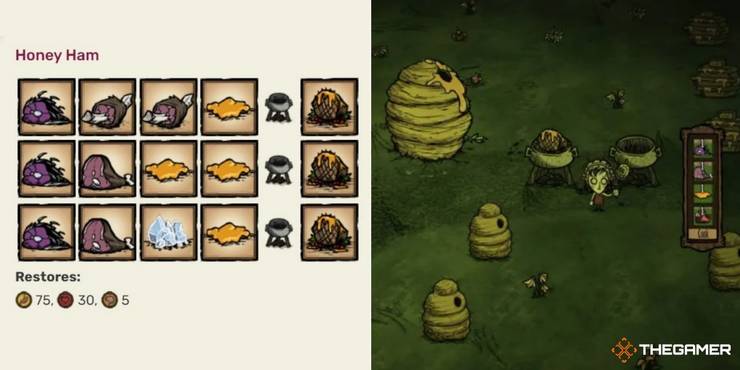 If you're familiar with bees, Honey Ham is another recipe that will give you 75 Hunger and 30 Health at a time, with a spoilage time of 15 days. It just takes one comb of generated honey to two pieces of meat to manufacture it, but it must have at least three different ingredients to work.
Honey Ham, like many of the filling recipes in Don't Starve Together, is one of the recipes that can be created on a regular basis with the appropriate setup, making it a little difficult to prepare for new players who are still working out how to best build their home base.
Meaty Stew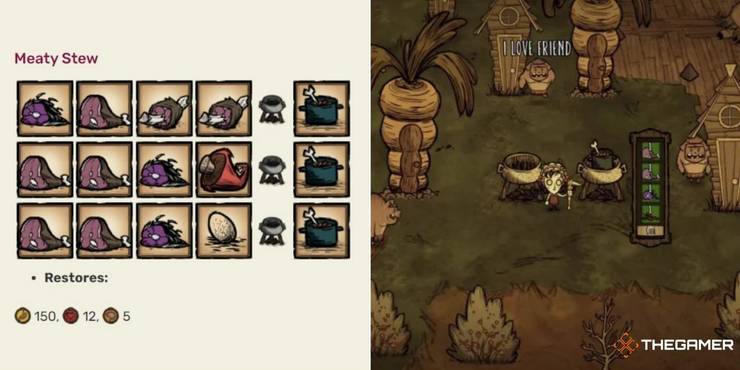 Meaty Stew provides the most bang for your buck, especially because it provides double the worth of its ingredients, sometimes even when they are ready to deteriorate. This recipe, 150 Hunger, is fantastic on an empty stomach after a full night's sleep or a long excursion out in the wilderness. This recipe is essential for an enhanced WX-78, who has a greater appetite and a far better tolerance for rotten food.
Fill your crock pot slots with meat, or combine three meats with one red mushroom or an egg. However, if you add more than one monster meat, you'll end up with a Monster Lasagna instead.
Turkey Dinner
Consider yourself abandoned in the wilderness, battling supernatural monsters of the night and shadows that move and steal your light. Don't you want a turkey dinner? It's even better because Gobblers don't have a high IQ and can be readily enticed into your quarters with the help of a berry bush and a strategically built fence.
To create it, you'll need three parts meat to one part fruit or cactus, with at least two parts Turkey. Any character you play, but especially Wigfrid, will enjoy this recipe on occasion, gaining 75 Hunger and 20 Health as well as a nice boost of warmth against colder weather.
Dragon Pie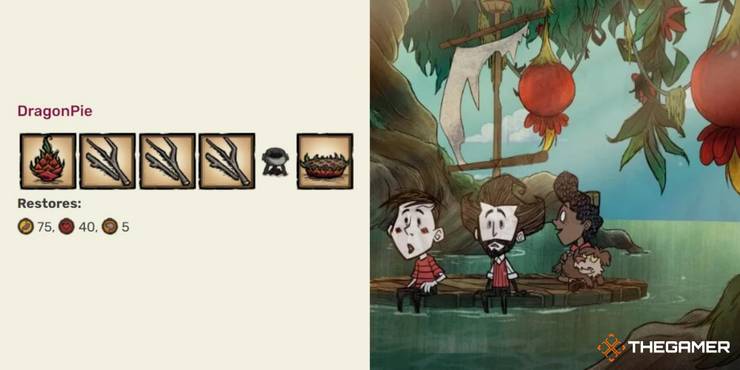 Dragon Pie is another high HP recipe that you may cook on a frequent basis if you have the correct home base arrangement, yielding a favorable 40 Health to 75 Hunger each serving. You simply need one dragon fruit and a variety of non-meaty filler materials to make it.
Unlike other meaty recipes, Dragon Pie has a long spoil time of 15 days, making it an excellent carry-on for daringly long treks into the caves or woodlands. Because of its quick chew time, it is especially useful for Wolfgang, who has to keep strong during fights, but completely useless for Slope Game, who can only consume meat-based recipes.
Veggie Burger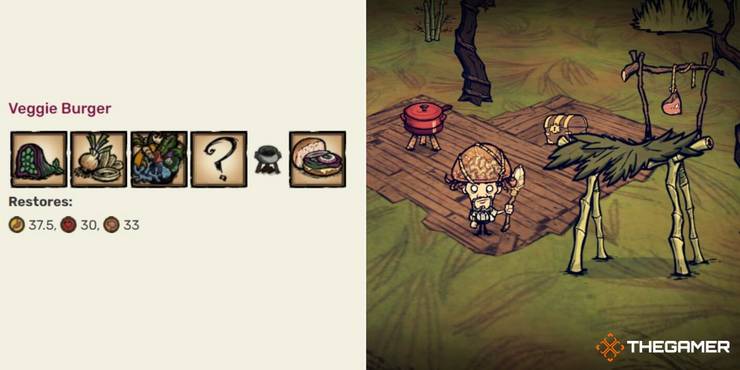 A Veggie Burger is a well-rounded burger that meets all of your character's needs, providing 37.5 Hunger, 30 Health, and 33 Sanity while being a meaty item despite its name. Combine Leafy Meat, Onions, and Vegetables with a value of at least 1.0 to make it.
Although some players prefer to save the ingredients for Jelly Salads, which gain 50 Sanity with only Leafy Meat and Sweetner at the expense of Hunger and Health, or Beefy Greens, which gain Hunger and Health at the expense of Sanity, Veggie Burgers are far more versatile, satisfying all three at the same time. They're also perfect for stocking your cook book and surviving the harsh wilderness in style.